Carmel-by-the-Sea is a quaint and charming village located on Carmel Bay, just 70 miles from San Jose and 120 miles from San Francisco. This picturesque town is nestled in a pine forest above a spectacular white sand beach. Carmel exudes a European ambience where you can stroll through winding streets, secluded alleyways, courtyards and arcades. The commercial center of town is highlighted with over 90 art galleries, numerous antique shops, hundreds of boutiques, small cafes and a broad array of restaurants. For history buffs, the Carmel area offers the Carmel Mission and Museum, dating back to 1771, as well as the National Steinbeck Center and Cannery Row.
Shopping for unique apparel and gifts is widely available in town and in a number of adjacent venues just off Highway One a few miles to the south. Also nearby is Carmel Valley, home of many vineyards producing world-class wines.
Outdoor activities abound with miles of pine and cypress lined trails, for hiking, jogging, horseback riding and bicycling. The ocean offers opportunity to kayak, sail or scuba dive in nearby Monterey Bay. Seasonal whale watching is also a popular pastime.
Adjacent to Carmel-by-the-Sea are the world famous Pebble Beach Golf Links and 17 Mile Drive, a magnificent scenic road, lined by lavish mansions, a cypress forest and gorgeous views of the Pacific Ocean. Just 26 miles to the south is Big Sur and the Ventana wilderness area and 3 miles south of Carmel is Point Lobos State Reserve, known as "the greatest meeting of land and sea in the world."
For over 100 years, Carmel has been a Mecca for artists, writers, actors and playwrights who have made this village an intellectual and cultural oasis. In this tradition, Carmel-by-the-Sea hosts numerous events, such as the Carmel Art, Bach and Shakespeare Festivals and the world famous automotive Concours de Elegance.
For more information about Carmel-by-the-Sea, please visit one of the web sites below.
Carmel-By-The-Sea Official City Site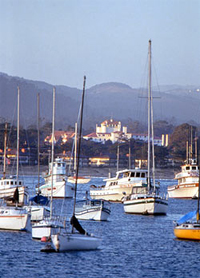 Photo courtesy of the Monterey County Convention and Visitors Bureau